Marking and Substrate Guide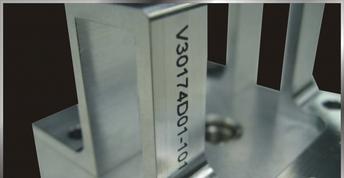 Our experienced staff generates graphic images, alpha-numeric fonts, markings, and prints to blue print specifications.

Toltec produces coding utilities such as Data Matrix 2D Barcodes-DPM, 2D symbology— serialized and singular, and UIDs.

Toltec is always looking to expand our capabilities. We are eager to work with new, unique substrates toward identifying a solution for you.
Let Us Handle Your Marking Challenges.

| MARKING METHODS | CO2 LASER | FIBER LASER | SCREEN PRINT | LABELS/DECALS |
| --- | --- | --- | --- | --- |
| Acrylic | X | | X | X |
| Alodine plated AL | | X | X | X |
| Anodized aluminum | X | | X | X |
| CAD plated steel | | X | X | X |
| Cast aluminum | X | X | X | X |
| Clear anodized | X | | X | X |
| Raw aluminum | X | | | X |
| Brass | | X | X | |
| Chrome | X | X | | |
| Copper | X | | X | X |
| Dura black (aluminum) | X | | X | |
| Delrin | X | | | |
| Electroless nickel | | X | | |
| Epoxy | | | X | |
| Fish paper | X | | | |
| G-10 | X | | X | |
| Glass | X | | X | X |
| Invar | X | X | | |
| Kapton | X | | | |
| Leather | X | | X | X |
| Melamine | | | X | |
| MU metal | X | X | X | X |
| Mylar | X | | | X |
| Peek | X | | | |
| Pewter | X | | | |
| Plastics | X | | X | |
| Polycarbonate | | | X | X |
| Polyester (coated/treated) | | | X | |
| Polyethylene | X | | | |
| Polypropylene | | | X | |
| 17-4 SST | X | X | | |
| Shrink tube | | | X | |
| Stainless Steel | X | X | | |
| Stencils | X | | | X |
| Styrene | | | X | |
| Tiodized titanium | X | | | |
| Tantalum | X | | | |
| Teflon | X | | | |
| Titanium | X | X | | |
| Tool Steel | X | X | | |
| Tungsten | X | X | | |
| Ultem 1000 | X | | | |
| Ultem 2300 | X | | | |
| Vinyls | | | X | X |
| Wood | X | | X | 49 |